LexaTrade Review: Legit or Scam?
2959

Unique views
5624

Views
2 years ago
LexaTrade Review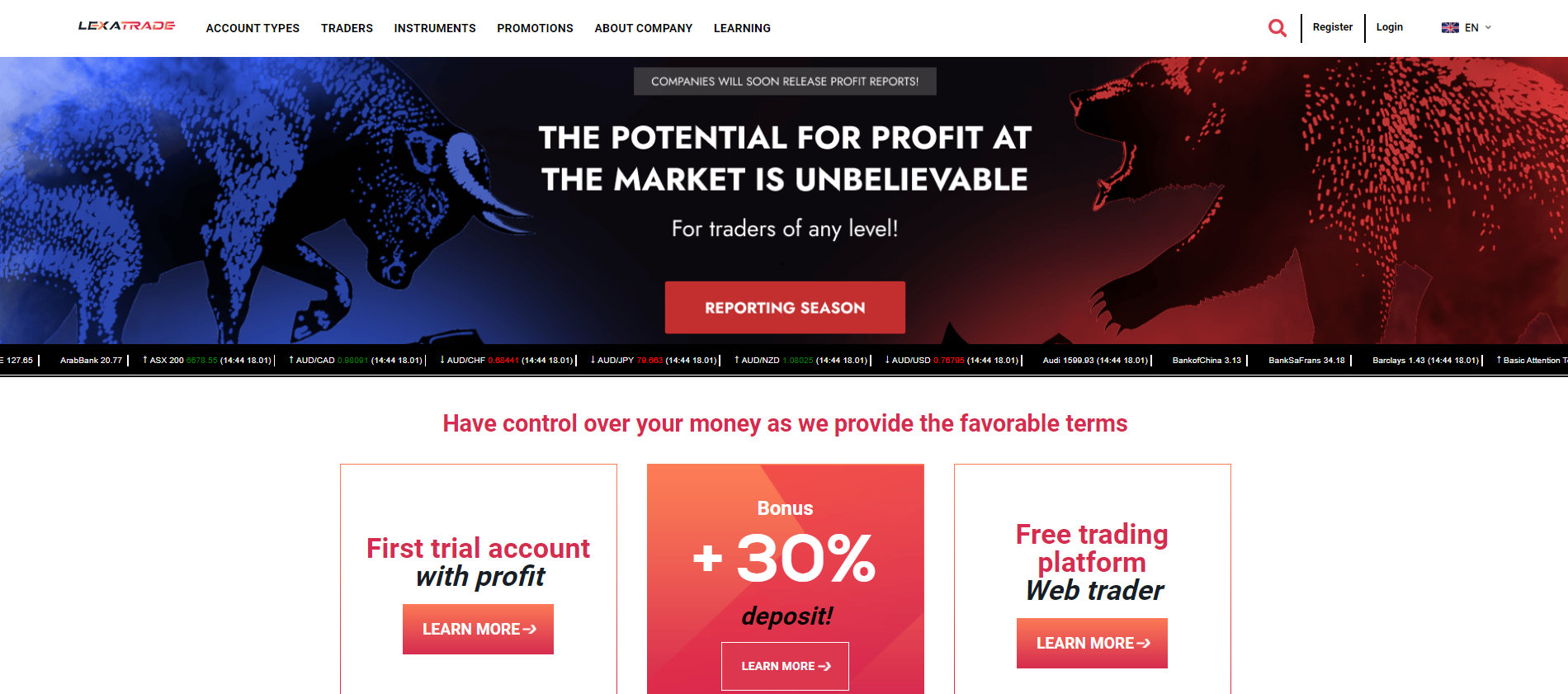 Proper regulations usually ensure that forex brokers are sufficiently capitalized in the event of insolvency or trading losses. It also guarantees the broker's commitment to maintaining satisfactory dealing practices and keeping your money in secure and segregated accounts.
Nowadays, it is second nature to an investor to choose an officially regulated broker with a decent regulatory history. Hence, it is of primary importance for a forex broker to assert its legitimacy through its regulatory certifications.
In this light, this LexaTrade review, among other published Lexatrade forex broker reviews, is served to enlighten traders and investors afloat online about the broker's legitimacy as a financial service provider and its current regulatory standing.
Along with the broker's regulatory background, this broker review will also rundown key advantages and features of LexaTrade. Additionally, it will provide LexaTrade reviews from LexaTrade clients to help you picture out the broker's overall service.
LexaTrade Background

LexaTrade started its operation by just managing cash transactions in real-time trading using PAMM accounts. From there, it grew to become a firm capable of bringing in advanced trading solutions coupled with a wealth of financial instruments, grooming itself to become the emerging online brokerage brand it is known today. 
Amassing more clients in the following years, LexaTrade extended its services to different jurisdictions across continents. In 2019, LexaTrade reached more than 2 million merchants worldwide. 
Regulatory Affiliation & Safety of Funds
Despite limited information available on the LexaTrade website, other Lexatrade broker reviews will tell you that the broker is under the Maxi Markets group. However, LexaTrade forex broker's official site claims that the brand is owned and operated by Swissone Group Ltd. 
Holding its business operations in Saint Vincent and the Grenadines, many traders doubt the legitimacy of the broker, let alone Lexatrade's regulatory credential. This is because there are many traders online claiming to have been scammed by LexaTrade. But browsing the broker's official site, LexaTrade asserted the legality of its business operation and its regulatory compliance with the International Financial Market Relations Regulation Center (IFMRRC). 
IFMRRC is a non-commercial organization that was established to regulate the quality of services offered and provided by brokers, dealing centers, including the reliability of services provided by the cryptocurrency community such as cryptocurrencies, cryptocurrency exchange sites, cryptocurrency mining, and companies. 
In this light, it can be said that LexaTrade is a legitimate business entity and is a regulated broker. Yet, questions remain whether this regulatory affiliation is strong enough to set aside fears of losing trading funds of clients in the event of insolvency. Fortunately, IFMRRC features a Compensation Fund scheme to be observed by all its 49 regulated brokers including LexaTrade. 
To set the record straight, investing in LexaTrade is nowhere near 'LexaTrade scam' nor 'LexaTrade cheating' claimed by naysayers since the broker is covered by a Compensation Fund provision under the IFMRRC.
Lexatrade Advantages

Just like any broker, LexaTrade flaunts a set of advantages to fish investors in the sea of online financial investment. Below are the most salient benefits LexaTrade offers to its users.



Advanced Trading Platforms Traders, both novice and experienced, can trade with convenience and confidence using two different trading platforms: MT4 and xCritical. Having the industry-popular platform, MT4 is a good choice for traders who want to trade under a familiar trading interface and trading system. Equipped with features of a standard MetaTrader, LexaTrade's MT4 offering is a good choice for novice traders. On a different level, traders wanting to use a more advanced trading platform can opt for xCritical as it is powered by cutting-edge trading solutions and advanced features.






A wide range of financial instruments and trading account options LexaTrade covers stocks, shares, commodities, and currency pairs. At present, the broker provides traders access to more than 200 trading instruments.






Extensive Research and Educational materials LexaTrade offers economic news, economic calendar, technical analysis tools, and daily outlooks. Along with a wealth of research tools, the broker also has an Education Center where e-books and video courses are available. Moreover, the Learning section of LexaTrade also features webinars and a Questionnaire page where business owners will be given an exclusive offer. Essentially, the Questionnaire will help the broker prepare the best trading conditions for the investor.



How to partner with LexaTrade
If you consider LexaTrade to be your trade partner, head to the LexaTrade official site at https://lexatrade.com/ and click 'Register'. You will be directed to a registration form where you will fill in your name, email, country of residence, and contact number. LexaTrade gives a 30% bonus on your first deposit.
LexaTrade Customer Reviews
LexaTrade has often been found on the wrong end of maligning client reviews. However, it is crucial to note that not all client reviews came from the real clients of the broker. This time, we will feature some of the feedback and reviews of current LexaTrade clients to give us some first-hand experiences with the broker and how they feel toward their service provider. 
LexaTrade Customer Review #1 (Sidney Gibson)
"If, in general terms, the company works honestly, and I would not say that there are some illegal actions. If there is a drain, then the fault of the current customer who could not calculate the risks and got into a situation when the deposit is squeezed to the margin stake and can ultimately fly out by stop out, now the volatility is very high. It is not necessary to wait for some news, and the market is moving unpredictably.
I have been trading on the market for 5 years, of which almost 2 years on LexaTrade. There have never been problems with the company. I am comfortable working with them. I go to the LC only to withdraw funds. The terminal works well, the connection is stable. There were no performance problems or disputes."
LexaTrade Customer Review #2 (Nathan Kadri)
I consider LexaTrade a reliable and conscientious company. I'm not exaggerating anything. Only with him can I earn and withdraw money. This broker attracted me precisely with this – in all reviews about LexaTrade, it is distinguished by the reliability and honesty of the company. Of course there are questions, but after correspondence with tech support everything is successfully resolved. We continue to cooperate further.
Trading conditions, if not the best, then some of the best, there have never been any hitches with the execution, so that the connection disappears, too, is not seen. There is a slight glide, but I didn't notice a serious one, on EUR / USD there can be a glide of a maximum of 1-2 pips and then on serious news. And even on m1 you can scalp. The output without any problems of any amounts.
Apparently, the pair of customer reviews clearly reflects the broker's honest and quality trading services, contrary to some maligning customer reviews that try to dent the broker's reputation. These clients are enough proof that 'LexaTrade scammers' is merely a baseless claim. The clients were not even all praises in the entirety of the broker's services, leaving some room for improvement and giving us a clear indication that LexaTrade also has its share of flaws and setbacks. 
Aside from throwing shades to the broker, some online client reviews also burst out that LexaTrade scammed them by not allowing them to withdraw their funds from their accounts. Albeit contrary to one client review above, this issue can be easily identified as a misinformed judgment on the client's part. This is because it is clearly stipulated in the broker's Refund and Withdrawal Policy that the broker may refuse to process the client's withdrawal request if the client is suspected of violating the terms of the agreement on the terms of service. In one way or another, clients who were unable to withdraw their funds from their accounts might have violated some conditions and guidelines without them knowing it.
Aside from a comprehensive Refund and Withdrawal Policy, Lexatrade also provides other client security measures which include:



Risk Disclaimer






Privacy Policy






Terms and Conditions






 Know Your Customer Policy. 



The broker also has a page dedicated to resolving disputes through its complaint form. 
Having these various means of solving conflicts and attending to disputes is also a clear sign that LexaTrade is working to deliver seamless trading services devoid of conflict of interest, malice, and dishonest practices.