Volume 24H
25133490 COCOS
Cocos is world â"–1 open source game engine and â"–1 engine for instant games with 1.3 million developers worldwide. Cocos is expanding its product spectrum into blockchain by building the platform Cocos-BCX (Cocos Blockchain Expedition), a full stack development platform visioning for the next generation of digital game economy. Cocos-BCX' , fully named 'Cocos BlockChain Expedition', aims to create an integrated multi-platform runtime environment for games, providing developers with the convenience and completeness in game development, while bringing users a whole new gaming experience, unprecedented gaming status, and with all the assets obtained in the games being wholly owned by the users.
| | | | |
| --- | --- | --- | --- |
| Mkt.Cap | $ 123.35 M | Volume 24H | 25.13 MCOCOS |
| Market share | 0% | Total Supply | 100 BCOCOS |
| Proof type | N/A | Open | $ 1.53 |
| Low | $ 1.52 | High | $ 1.70 |
Cocos-BCX Raises $40M to Redefine the Future of Blockchain Gaming with New Developer Platform
Cocos-BCX is building a development environment with gaming experience and game economics in mind. Game developers can easily migrate conventional games to the blockchain without the need to learn blockchain programming languages.
And a built-in decentralized exchange, multiverse creator, and cross-game transfer system are all useful tools. The developers of COCOS believe it is one of the fastest blockchains ever created, yet still provides a high level of security. They state that they have tested the blockchain and found that it can process transactions at a speed of 100,000 terabytes per second (TPS).
The field types and identification reference tables of the fixed data zone of non-homogeneous digital assets defined in this standard. It is an officially accepted non-homogeneous digital asset standard defined by smart contracts in the Ethereum network. It has a customizable data zone, which makes it possible to digitize items or records. The zone data of the 1808 standard digital assets will be left with a record of the game as the number of games experienced increases.
Get more with Crypto Pro app
It certainly seems to have a lot of features that game developers will love. As with most gaming blockchains that try to provide scalability, Cocos-BCX uses a Delegated Proof of Stake (DPoS) consensus protocol. This means that Ethereum assets can be traded using Cocos-BCX, and developers may someday be able to allow players from a Ethereum games to transfer these items to Cocos-BCX game-worlds. For example, a Cocos-BCX game can allow players to craft a wheel using rubber and steel.
Multiverse System
Cocos-BCX, a full-stack development platform and ecosystem for blockchain gaming, has announced a new collaboration with Celer Network, to integrate layer-2 scaling technology into the platform. The updated Cocos-BCX chain adds a variety of atomic OP and data structures to enable possible new business. With the contract system, developers can easily implement complex financial business models on the blockchain, such as asset leasing, mortgages, pawns, and so on.
Users control the snake to eat pellets (fungible or non-fungible tokens) and compete with other players. The game serves as an example for in-game economics and the use of pegged, derivative tokens in competitive leisure games. The Cocos-BCX team has launched games developed both by third-party developers and the team itself as templates to help developers better understand the development of games on Cocos-BCX.
In the past, we have seen Enjin-coin games that have items produced out of Enjin. Cocos-BCX is taking this idea to the next level by allowing a potentially unlimited number of intermediate steps to item creation. This feature allows developers to potentially run entire games on the blockchain. Since the contracts can be changed, developers can implement bug fixes and game logic changes after a game has been released. On August 8, White Matrix, the Cocos-BCX Eco-Partner, customized the world's first cloud IDE to access Cocos-BCX TestNet in ChainIDE.
Users pilot the fighter to destroy enemy aircraft and collect points (fungible tokens) and items (non-fungible tokens). Items acquired can be stored and traded among users, across applications or blockchains under NHAS-1808. The game serves as a demonstration of generation, storage and transfer of NHAS-1808 tokens. CocosChain with features including game-centric data structure, multi-chain interoperability, asset-contract compartmentalization, use of light nodes, and many more. The project has created NHAS-1808, a proprietary token standard for fungible and non-fungible digital assets.
This function represents a hardened action on the equipment in a common RPG game. Players can choose the equipment to be upgraded and the upgraded attribute category (STR, AGI, or INT, etc.), the game will parse the domain data and calculate the target value and input into this contract function. Since the Cocos-BCX contract system supports the internal random process, the success rate of the upgrade in this scenario can be displayed in a random manner. According to the game operation design, the 1808 non-homogeneous assets standard support the design of paid travelling across the universe line through a specific third-party. This is helpful for game operation to meet the needs of item balance and asset circulation control.
This manual was provided for users who working on game development, assets design and distribution, and game universe design and management on COCOS-BCX blockchain network. This content has been developed to provide instruction to the 1808 Standard and its usage specifications so users can design a user-friendly digital assets and game universes on the BCX network.
The aim is to bring both game developers and players an improved experience within the entire Cocos ecosystem. 【1】 CHEN Haozhi, Founder of Cocos-BCX, will give keynote at ChainPlus on Jan in Seoul to share points on Cocos-BCX and future game economy. The game service collects the required information from the zone data of the player's items and submits it to the contract. Since there is a linkage with the previous game, the developer designs a linkage with the previous game skills (e.g. the 'eyes of hawk' shown in the following code), so that the items that travel to the game universe can be equipped with the skill attributes.
Game Universe and the Multiverse System
In addition, Cocos-BCX aspires to bring users complete control and transparency over in-game virtual assets. During its development path, Cocos-BCX introduced a non-homogeneous token standard — the BCX-NHAS-1808 standard. The 1808 standard maps out a whole set of unified digital asset specifications which will build gateways for cross-chain asset exchange and circulation. Making an analogy between "World of Warcraft" and the blockchain, all the props of the former one can be set as non-homogeneous digital assets. If obtained again, the weapons will not be merged but exist as independent asset data despite their same attributes, skills and even descriptions.
It is important to note that some contract data cannot be changed by developers in Cocos-BCX.
Cocos-BCX's vision is to become an end-to-end platform where game developers can build, deploy, operate, and manage their games across all blockchain systems from a single destination.
Blockchain, or a secure and transparent decentralized ledger, has become popular in the past few years as the foundation for cryptocurrencies such as blockchain.
As the perfect way to represent various non-fungible items, non-homogeneous digital assets can cover the field of game items, gears, characters, map data, and even expansion pack in the game industry.
【3】Square Enix plans to aggressively expand overseas and rapidly adapt to new platforms with blockchain technology involved.
The new capital will allow Cocos-BCX to accelerate development of its new gaming platform and support the company's continued growth and expansion. The full testnet version of the platform, including all core components (the blockchain game engine, an integrated development environment (IDE), and the CocosChain public blockchain) will be released in the fourth quarter 2018. Leveraging the Cocos2d-x community of 1.1 million developers, Cocos-BCX aims to bring together the game developers and blockchain engineers to build and collaborate on the platform while also soliciting feedback to help refine and improve the platform.
Token Supply Distribution:
The extended data contains the zone that records the combination relationship. The zone data records the information of the nested relationship when the asset is combined. Before the relationship is terminated, the ownership of nested sub-assets will not be able to be transferred. Now Haozhi Chen, co-founder of Chukong, has started Cocos-BCX as a separate company, focused on blockchain gaming.
This is to introduce an example of the game items travelling the game universe. In this example scenario, the game service authorizes the player's items to travel into their own game universe with a fee. After the player passes the required assets by paying a fee, the game service will allow the player's items to enter the game universe (contract system).
The investors in Cocos-BCX include Binance Labs, NEO Global Capital, 500 Startups, and more. Blockchain, or a secure and transparent decentralized ledger, has become popular in the past few years as the foundation for cryptocurrencies such as blockchain. And now entrepreneurs are trying to figure out how to apply it to industries such as gaming, where the tech can be used to verify identities, set up alternative app stores, or make characters cross-platform.
This means that developers who do not have extensive knowledge of scripting can still create games using the platform. The Cocos-BCX platform distinguishes between owner rights and user rights in game items.
The Significance of Non-Homogeneous Digital Assets to Games
Cocos-BCX's vision is to become an end-to-end platform where game developers can build, deploy, operate, and manage their games across all blockchain systems from a single destination. in financing from top blockchain funds and investors, including Binance Labs, NEO Global Capital, 500 Startups, and more.
It is possible for a game-asset to have a different user than owner, and the rights associated with these titles can be transferred freely without interfering with each other. All items used in Cocos-BCX games can be traded to other players for COCOS, which is the platform's native cryptocurrency.
ChainIDE is the first cloud IDE compatible with multi-chains and Libra Move language in the globe. The completion of this customized cloud ChainIDE will connect Libra, Cocos-BCX, Cocos and other ecosystems, and build up great momentum for global developers and high-quality ecological content resources. As the co-organizer of Binance Arena, Cocos-BCX co-authored the competition theme based on the bottom technology of Cocos-BCX blockchain, and conducted pre-competition training workshop, providing assistance for game developers. White Matrix CEO Wu Xiao, DAppReview Founder Vincent Niu, LianWangTang Co-Founder Neo Lee, Celer Network Operation Director Qi Chao, MixMarvel CMO Yiyi, TonArts CEO Song Yang shared their views on blockchain games. The Smithy is a group of accounts with the right to generate game props, equipments, and contracts.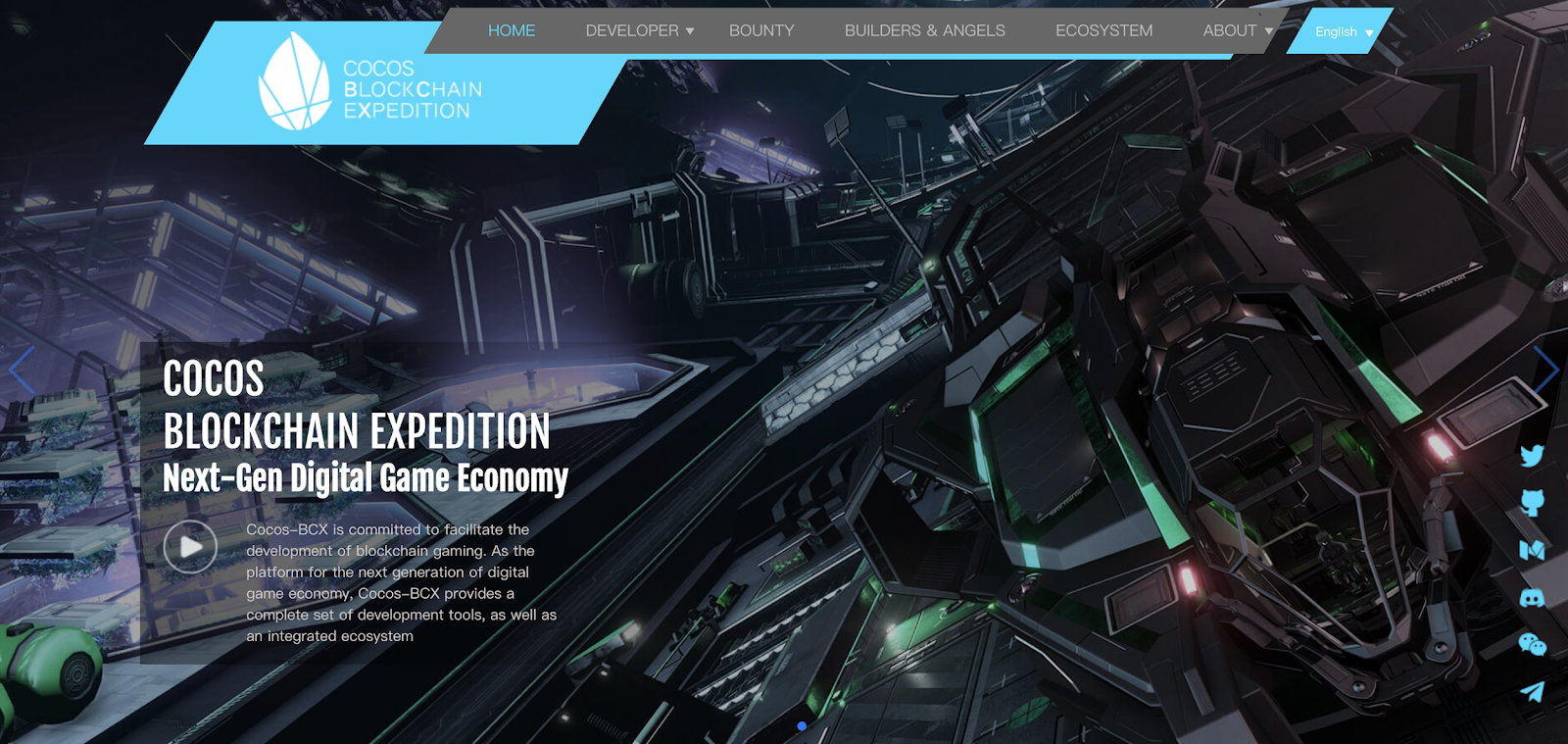 Cooperate with Cocos2d-x, an open source game development framework based on C++, to bring traditional game developers to the blockchain gaming space. NHAS-1808, the token standard of Cocos-BCX, uses a unique data structure that enables the creation, exchange and modification of tokens with richer properties across different applications and chain domains.
Under NHAS-1808, the ownership and the rights of use of an asset is separated, by which developers can plot complex economic activities (such as borrowing and pledging tokens) that can significantly enhance the gaming experience. Cocos-BCX components are designed specifically to improve the incorporation of game content and decentralized economics. The following chart is a high-level demonstration of the Cocos-BCX system architecture.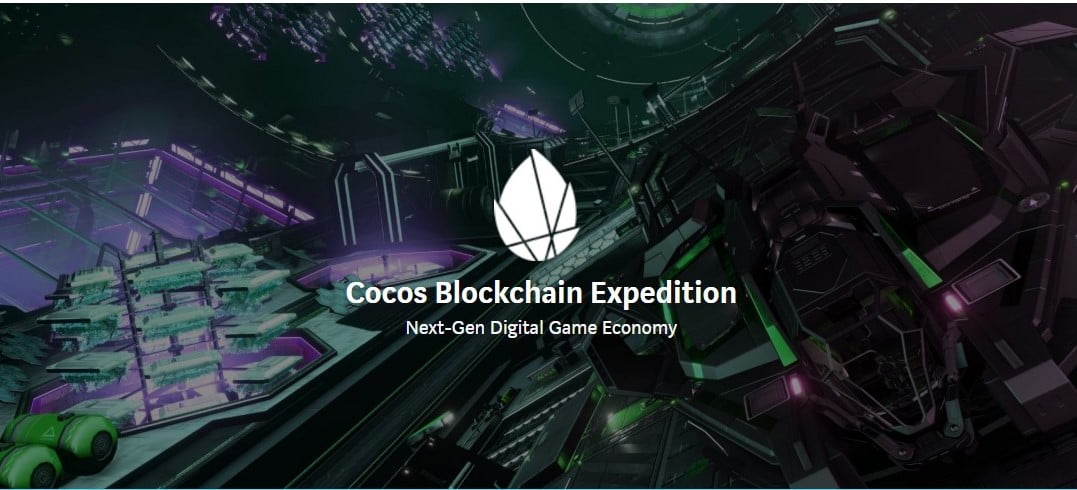 This chapter will describe the operation of contract on COCOS 1808 standard digital assets, and how the non-homogeneous assets travel and link in different universes in Cocos-BCX chain. For more information, please refer to the Cocos-BCX Smart Contract User Guide.