| | | | |
| --- | --- | --- | --- |
| Mkt.Cap | $ 0.00000000 | Volume 24H | 0.00000000EPT |
| Market share | 0% | Total Supply | 1.5 BEPT |
| Proof type | N/A | Open | $ 0.0012 |
| Low | $ 0.0012 | High | $ 0.0012 |
CoinCheckup
Due to the decentralised, and censorship-free nature of blockchain technology, the Endor platform is accessible to anyone across the globe, without discrimination. Endor will use tokens on the platform to enable users to pay for custom data analysis and predictions by the Endor AI. The AI will exist as a decentralised entity, on the nodes of the Endor blockchain. Data scrapers, aggregators, and social sites such as Reddit, Facebook, or Twitter, will serve as the funnels for data collection. Endor is based on the Ethereum blockchain, and EDR is an ERC-20 standard compliant token. This means Endor will use the highly efficient Proof of Stake consensus algorithm.
With the blockchain still due to be released to the public sometime in 2018, it is extremely likely the prices will skyrocket once a release data is fixed. Endor has been extremely popular, with many multinational corporations and Fortune 500 companies already integrating it into their predictive market and big data analysis systems. Industry giants behind development - Most altcoins have anonymous pseudonyms as their developer identities. Endor, however has some of the world's leading sociologist, data scientists, analysts, and researchers at its helm.
Endor aims to make big data analysis, large-scale data manipulation, and AI powered predictive analytics accessible to anyone across the globe. It plans to make data science, and complex data mutation and analysis available to people other than large organizations with a large amount of funds. Endor implements its goal using blockchain technology, and its own cryptocurrency on the platform. "Google for predictive analytics". Endor team wants to create the world's first predictions protocol, powered by Social Physics technology, and Blockchain infrastructure.
This link is provided solely for informational purposes and is not an endorsement in any way. We recommend that you exercise extreme caution and consult a registered investment advisor before taking any action. Real-time and manually curated cryptocurrency data brought to you by CoinMarketCap, CryptoCompare, IntoTheBlock and CryptoSlate. Trusted Volume calculates volume only from reputable crypto exchanges without fake volumes, all of which are considered to list accurate trading volumes.
They include renowned professors from institutions such as the Massachusetts Institute of Technology, or MIT, and scientists from Google, IBM and AT&T. What's more - with CoinSwitch, you do not rely on a separate EDR wallet from the exchange to store your EDR cryptocurrency. Instead, all transactions happen to and from your own personal private wallets.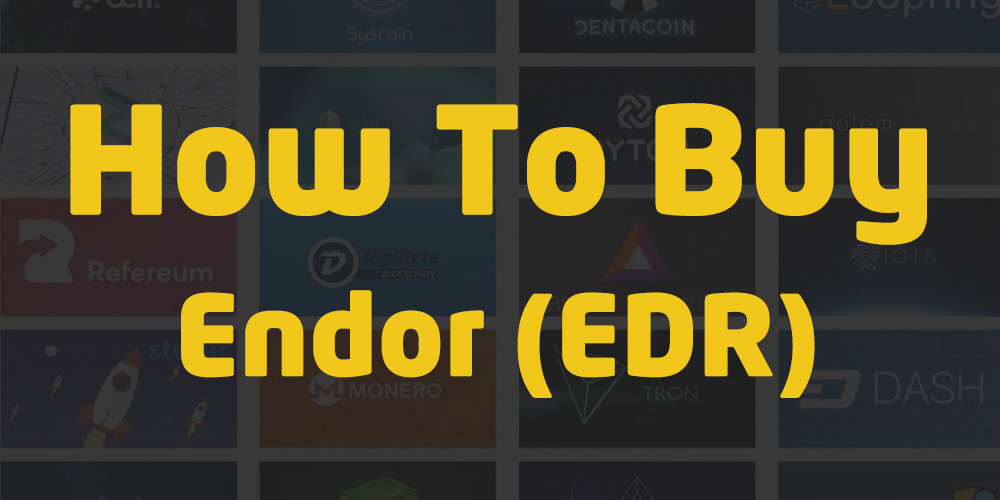 Data providers
Unique purpose - Endor is probably the only predictive analysis software fit for enterprise-level use, that is global, openly accessible, and affordable enough for everyone. It is also one of the very few cryptocurrencies that actually serve a higher purpose, and provide a useful service to their users. Endor uses the blockchain technology itself to provide a robust and decentralized prediction platform, with immense opportunities for growth in the future.
Businesses and professionals will be able to utilize the Endor Protocol API in order to easily integrate Endor Protocol within their organization or application. EDR token holders can order look-alike predictions on Ethereum wallets and ERC20 tokens.
ETH smart contracts will be used to implement the bulk of the predictive solutions Endor provides. Using smart contracts users can use the Endor network, including all data available and the Endor AI, to run custom predictive algorithms, and ask organization-specific marketing questions. Smart contracts will also allow predictive analysis and algorithms to be run on custom data sets.
Endor Protocol Price Chart
Endor Protocol is a decentralized predictive platform, suited for both commercial and personal use. TrackICO - a platform that was established to provide its users reliable information about the best Initial Coin Offering projects and help ICOs/STOs attract more investors. TrackICO does not encourage investing in any ICOs published on the platform. Make sure to do your own thorough research before putting money into Initial Coin Offerings.
The token's utility will be its usage by Endor.coin's customers to pay for predictions.
"Google for predictive analytics".
Read the full disclaimer here.
This is even more crucial, given the nature of Endor's intended use, where the network must deal with terabytes of data analysis and complex prediction algorithms running on it.
The Endor Protocol (ticket EDR) is the project that tries to revolutionize the industry of financial analytics.
This is even more crucial, given the nature of Endor's intended use, where the network must deal with terabytes of data analysis and complex prediction algorithms running on it. Globally accessible - Because the network is not regulated by any central body, the powerful AI analytic engine and protocols are not restricted to multinational corporations with immense funding.
Token Holders
All content on TrackICO is meant to be used for information purposes only, and should not be taken as financial or investment advice. The Endor Protocol is the world's first predictions engine that empowers business and individuals with AI-powered predictions that, until today were only available to large businesses with deep pockets. CryptoSlate does not endorse or recommend any single cryptocurrency.
The given information is background one. Analyse the actual information or ask financial consultant for help before making investment or trading decisions. cmc.io aggregates data from different sources and it is not responsible for any missing or incorrect information. We reserve the right to delete any website page without prior notifications.
Self-serve predictions on CUSTOMER'S PRIVATE data
Locate and join in the Bitcointalk thread - ask your questions and get your response from other technically savvy users and the project team or understand why there is no Bitcointalk thread. Endor Protocol Token (EDR) price $0.00274. -0.38% down. View Endor Protocol Token (EDR) price charts, market cap, volume, available supply and technical analysis for Endor Protocol Token (EDR) and more now. Endor Protocol ICO was conducted from 19 Feb to 14 Mar 2018.
Market Overview Watch updated crypto prices, market caps, volumes. After years at MIT, Endor invented the "Google for predictive analytics", providing automated accurate predictions, fast, with no data science expertise required. Reinventing predictive analytics with proprietry Social Physics technology and massive machine power, Endor makes accurate predictions scalable and accessible to all. • Smart billing utilizing Smart contract, to support the Endor Protocol Eco system.
After years where Artificial Intelligence and Machine Learning capabilities were reserved for deep-pocketed companies, Endor offers individuals and small businesses access to superior tech, for a fraction of the cost. Predictive insights are based on the collective analysis of the contributed data offered at a low cost, while allowing data owners to control the privacy of their data. The data thus collected, will be completely secure, using AES standard client-side encryption, which means that the Endor blockchain itself will not have access to the contents of user data.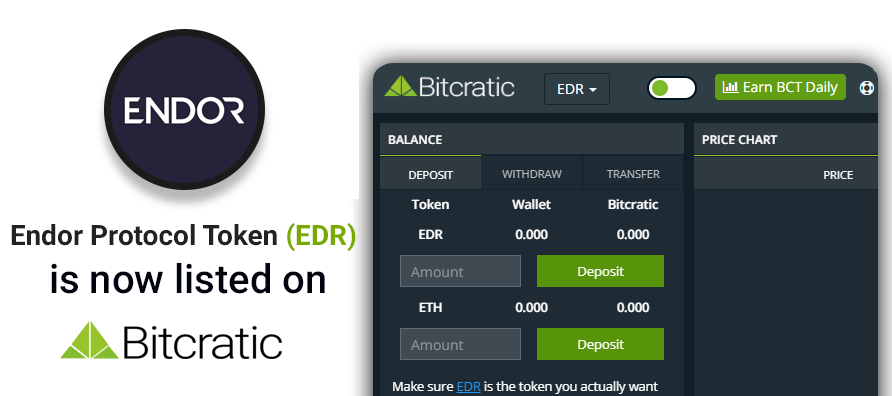 Endor Protocol Token Blockchain Data
Disclaimer. cmc.io does not give you financial advice.
This in turn is used to fund system infrastructure (AWS) and data acquisition (by rewarding data contributor). The EDR token will be ERC20 compatible, ensuring a high degree of security and integration with the ecosystem.