Iconomi is an European based exchange that allows users to easily acquire Ether with EUR. Iconomi has recently expanded into a crowdfunded project, the Iconomi Open Fund Management platform. In the Iconomi OFM, users can choose between two investment types with different risk and profit levels, Coin Traded Funds (CTFs) and Coin Managed Funds (CMFs).
Iconomi (ICN) tokens allow users to vote regarding the platform's development and they pay out dividends from the profits generated by the Iconomi OFM platform.
| | | | |
| --- | --- | --- | --- |
| Mkt.Cap | $ 0.00000000 | Volume 24H | 0.00000000ICN |
| Market share | 0% | Total Supply | 100 MICN |
| Proof type | | Open | $ 0.15 |
| Low | $ 0.15 | High | $ 0.15 |
Iconomi
Create a new list
They also cover liability regime, security measures, provisions regarding possible taxes, provisions on intellectual property, access to the Platform, and other rules and notices important for the End Users of the Platform. In addition, there is nothing to hide, the fact that the modern economy is constantly changing - and together the value of digital resources is also changing.
TrackICO does not encourage investing in any ICOs published on the platform. Make sure to do your own thorough research before putting money into Initial Coin Offerings. All content on TrackICO is meant to be used for information purposes only, and should not be taken as financial or investment advice. ICONOMI's mission is to provide an opportunity for investors looking for high profits, not possible in the old economy. It will do so through a simple and trustworthy entry point, providing them with an excellent experience, which is crucial for keeping them investing in the new economy.
Bitcoin Holds its Ground
Furthermore, they include provisions on the status of Experts with regard to the Platform, the powers of Experts, and the management of Crypto Strategies. When using the Website or the Platform, Experts should also take note of risks connected to fees, financial regulation and cooperation with relevant authorities and authorised institutions and regulators, liability, security, privacy, and intellectual property.
Use of the Website may be restricted for some persons who have their habitual residence or their seat of incorporation in countries with certain regulatory restrictions. The Terms and Conditions for the Use of the ICONOMI Website include the notice that ICONOMI does not provide investment advice, the copyright notice, permitted uses of the Website, conditions for registration and account use, and login details to be provided by the user. In addition, as we know the investment does not always come out - we have no guarantee that ICONOMI will provide investors with profits from their investments.
Iconomi (ICN) is a digital assets management platform that allows individuals to invest in digital assets. It is designed to be easy to use, making Iconomi as suited to beginners as it is to experienced asset managers who are familiar with blockchains. A wide variety of digital assets can be invested in and traded using the Iconomi platform. Among the features that Iconomi boasts are fast withdrawals, no contract lock-ins and a growing number of supported tokens.
Stellar transaction volume data covers only operations of Payment and CreateAccount types that transfer XLM tokens. Transaction count is the number of transactions that include at least one operation of aforementioned types. A Private Crypto Strategy can go public under the below written ICONOMI rules and conditions.
Statements and financial information on CoinCheckup.com should not be construed as an endorsement or recommendation to buy, sell or hold. Scores are based on common sense Formulas that we personally use to analyse crypto coins & tokens. Past performance is not a reliable indicator and/or guarantee of future performance. Transactions made with (but not limited to) cryptocurrencies, tokens and digital portfolios, can be very speculative and may result in losses as well as profits.
The ICONOMI platform is completely decentralized and fund managers are paid for via the platform - this solution enables people to connect with an online economy. As ICONOMI itself admits, their mission is to give users a chance to enter the world of digital content and streamline the current model to make it more open and its resources more accessible. We make it easy for you to buy, sell and store the leading cryptocurrencies such as bitcoin, ether and 13 others. Moreover, you can invest in Crypto Strategies or even create your own. Iconomi (ICN) tokens allow users to vote regarding the platform's development and they pay out dividends from the profits generated by the Iconomi OFM platform.
ICONOMI has been designed to combine digital resources with ease of cooperation between them. The platform allows you to test and improve your digital asset management strategies and allows you to share your thoughts and ideas with the community. Investors, in turn, can search for any offers by DAA managers and invest in selected projects. In addition, there is a reputation system on the platform, That is why it is worth taking care of good results and contact with the community.
By taking care of the tricky parts, we make it easy for you to invest in cryptocurrencies. ‍Use our web or mobile app to buy and sell leading cryptocurrencies and Crypto Strategies – on the go.
The assets which can be traded on the Iconomi platform are referred to as Digital Asset Arrays (DAA). Using Iconomi, managers can create a portfolio of digital assets and can then offer them to their clients or community of supporters as an investment vehicle.
The second way is, for example, the MyEtherWallet wallet, which is very easy to use and has already been tested by many users. The third and safest option is to store ICN tokens on hardware portfolios, such as Ledger Nano S or Trezor, both offer support for ICN. The first one is Bitcoin, the second is an altcoin, the third is the application tokens, and the fourth module is "DAA", using all the capabilities of the modules under it (1, 2 and 3).
A report by Dapp.com reveals Ethereum had more than 1.4 million active decentralised application (dApp) users last year, up from just over 800,000 in 2018.
Iconomi makes life easier for investors - through investment into one platform, thus also investing in several others.
If ICONOMI lays out on your investments, it may be the end of this platform.
The terms include certain eligibility criteria for ICN token holders and explain the process of the tokens exchange or ETH exchange.
You can decide for yourself how prevalent user created DAAs will be.
The ICONOMI Open Fund Management (OFM) platform will disrupt the asset management industry. The General Terms and Conditions for Crypto Strategy Experts set out rights and obligations to be adhered to in the relationship between Crypto Strategy Experts ("Experts") and ICONOMI.
The use of DAA, consisting of several different resources reduces the risk of impairment caused by market changes. Thanks to having diverse resources, cryptocurrency is also very easy to adapt to the constantly changing market, especially when investing. Hence you should use the knowledge of the experts on the @iconomicom platform and follow their strategies to get yourself the best interest. The fastest way to buy cryptocurrencies, such as #bitcoin and #ether, with Euros or your Credit Card.
The report mirrors earlier data from DappRadar, which shows Ethereum grew the daily user base of its dApp ecosystem by a huge 118% in 2019. Finance sector takes charge A deeperThe post Why Ethereum application adoption is on the rise appeared first on Coin Rivet. Any opinion, news, research, analyses, prices, comparison or other information contained via ICONOMI's social media are provided as general (market) commentary, and do not constitute investment and/or personal advice. Any information or opinion provided herein is not intended for distribution to, or use by, any person in any jurisdiction or country where such distribution or use would be unlawful.
Of these, 1.28 million were new users and 137,000 were returning users. The research also shows that of the 1,445 new dApps that were launched on the six largest smart contract platforms in 2019, a substantial 690 were Ethereum based.
Iconomi (ICN) Price
When it comes to ICN tokens, due to the fact that they are based on ETH, they can be stored in many different ways. Of course, you can store them on the stock exchange, however, this is not recommended due to the possibility of hacking attacks.
Prior to making any investment or entering into any transaction, you should carefully consider your financial situation and consult your financial advisor(s) in order to understand the risks involved and ensure the suitability for you of any investment or transaction. ICONOMI or any associated subsidiary or affiliates of ICONOMI (collectively, "ICONOMI") shall not be responsible for any loss arising from any investment based on any forecast or other information made available via any ICONOMI's social media accounts. All ICONOMI posts published on any social media platform are for informational purposes only. You should note that the content and materials on ICONOMI's social media accounts are provided "as is" without any express or implied warranties.
The Iconomi token is available on numerous cryptocurrency exchanges. DAA consists of various combinations of digital resources, such as Bitcoin, Ether, Qtum, Waves, etc. Each fund manager can create his own combination using different cryptocurrencies and offer them to users who can then invest in them. According to ICONOMI, digital resources are the basis of the modern economy and they are key in the markets forecasts, micro-transactions, and smart contracts.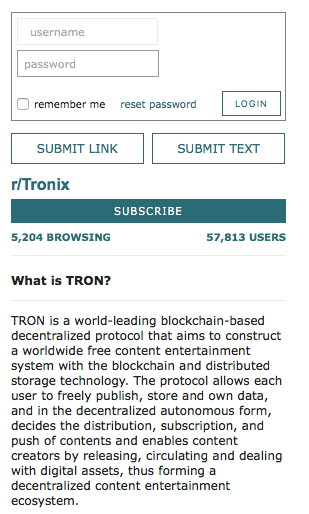 With a good reputation, there is a greater chance of attracting investors. ICONOMI allows you to buy various digital resources in just a few seconds and as the first platform to focus as many as four generations of digital resources, it offers something that has not existed on different platforms yet. In the Iconomi OFM, users can choose between two investment types with different risk and profit levels, Coin Traded Funds (CTFs) and Coin Managed Funds (CMFs). The ICONOMI Digital Assets Management Platform is a simple management tool where crypto-traders with knowledge and experience create their own asset arrays. Such arrays can then be shared with supporters for share of proceeds.
Still not sure? Learn more aboutCrypto Strategies
Trading and investing in digital assets is highly speculative and comes with many risks. The analysis / stats on CoinCheckup.com are for informational purposes and should not be considered investment advice.
The number of applications built on the Ethereum network is soaring as more people tap into the decentralised finance – or DeFi – trend. A report by Dapp.com reveals Ethereum had more than 1.4 million active decentralised application (dApp) users last year, up from just over 800,000 in 2018.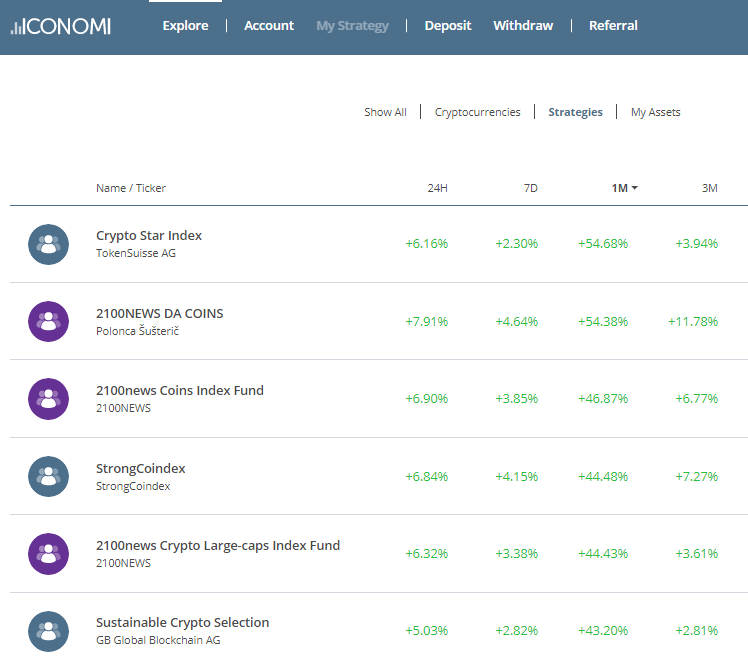 Crypto Strategies are collections of multiple cryptocurrencies created & managed by ICONOMI experts. Iconomi makes crypto more understanding to the general public and has the ability to create any grouping of currencies. However, the codes for this platform is not open source, which means there is a lack of transparency and the possibility of centralization. Digital resources require additional security measures and ICONOMI has it. Therefore, most of the resources passing through the platform will be constantly stored in special, encrypted wallets.
Let's be honest - the average crypto-currency investor does not want to constantly educate and analyze new projects. There is so much that just can not keep up - continuous browsing of twitter, telegram, exchanges, and setting off signals is really tiring, and sometimes even tedious. Iconomi makes life easier for investors - through investment into one platform, thus also investing in several others.