| | | | |
| --- | --- | --- | --- |
| Mkt.Cap | $ 2 M | Volume 24H | 118.42 MINT |
| Market share | 0% | Total Supply | 1000 MINT |
| Proof type | N/A | Open | $ 0.0021 |
| Low | $ 0.0020 | High | $ 0.0024 |
Internet Node Token Analysis: 4.1/10
Internet Node Token Statistics
Prices of cryptocurrencies are extremely volatile and may be affected by external factors such as financial, regulatory or political events. It's only possible to buy Internet Node Token on a handful of exchanges, but the trading volume is stellar. Investors should have no problems completing a trade if they're interested in purchasing this asset. The trading volume is spread out pretty well, and despite the small number of listings, they do have at least one excellent one. There's also a healthy mix of trading pairs, and investors will be able to take their pick from BTC, USDT or ETH to make their trades.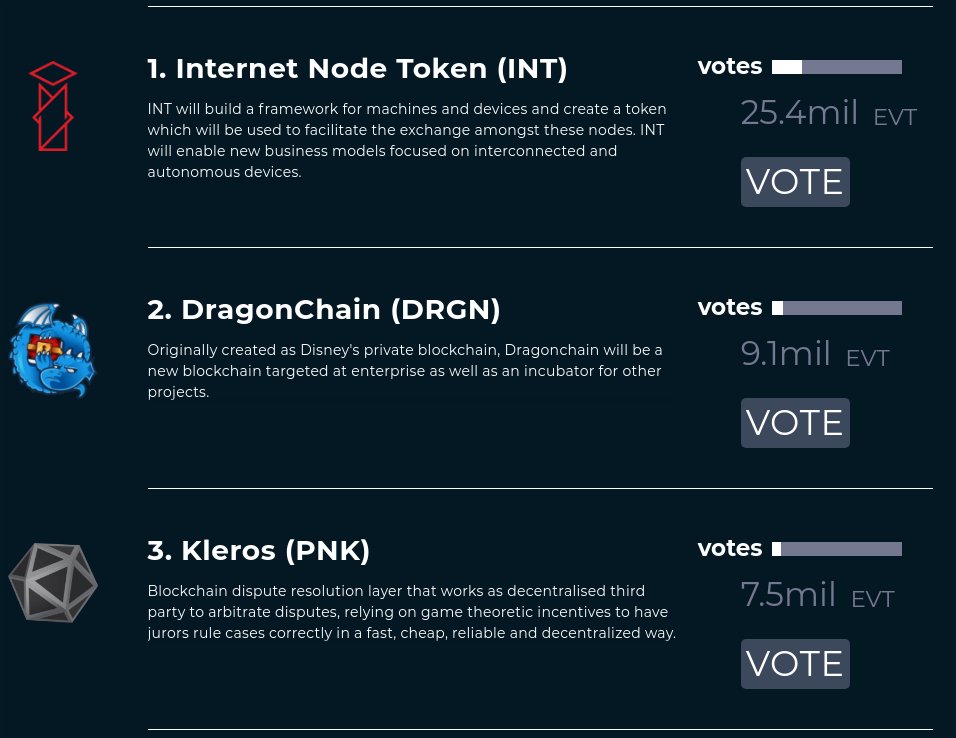 INT has taken the approach of hardware designed software. Allowing existing devices and the direction of the IoT ecosystem as it currently is to define the basis of the network while also marrying into it the needs of the future IoT ecosystem.
Internet Node Token Analysis & Opinion
All content provided herein our website, hyperlinked sites, associated applications, forums, blogs, social media accounts and other platforms ("Site") is for your general information only, procured from third party sources. We make no warranties of any kind in relation to our content, including but not limited to accuracy and updatedness. No part of the content that we provide constitutes financial advice, legal advice or any other form of advice meant for your specific reliance for any purpose. Any use or reliance on our content is solely at your own risk and discretion. You should conduct your own research, review, analyse and verify our content before relying on them.
When they do, that could leave INT out in the cold. Internet Node Token (INT) is working to develop a framework for machines and devices to directly connect to each other. The INT will be used to facilitate the exchange amongst the nodes in this framework. This provides a unique infrastructure to realise the potential of interconnected and autonomous devices, all powered by the INT token.
In one of the latest weekly updates they also hinted at mobile ad hoc networks (MANET). MANET is a continuously self-configuring, infrastructure-less, network of mobile devices connected wirelessly. This is much more complex than the above networks where each device has a defined path to route data. In a MANET, each device must forward traffic unrelated to it's own use and, therefore, act like a router for the devices that are connected to it.
If you plan to make an Internet Node Token investment, then you'd do well to research all of your options first. INT wants to be both decentralized, and the standard method for managing the flow of information through these connected devices. They have no real merits of their own or anything that really makes them stand out. Their only real benefit is that they can do some things "slightly better" than other existing platforms.
This website includes information about cryptocurrencies, contracts for difference (CFDs) and other financial instruments, and about brokers, exchanges and other entities trading in such instruments. Both cryptocurrencies and CFDs are complex instruments and come with a high risk of losing money. You should carefully consider whether you understand how these instruments work and whether you can afford to take the high risk of losing your money. The content provided on the website includes general news and publications, our personal analysis and opinions, and contents provided by third parties, which are intended for educational and research purposes only. It does not constitute, and should not be read as, any recommendation or advice to take any action whatsoever, including to make any investment or buy any product.
Cryptowatch
In the non-DHT P2P network environment, INT proposes an innovative BDT protocol that makes mainnet operation more adaptable to node mobility and the heterogeneous requirements of new IoT application scenarios. INT is the world's first bottom up new-generation blockchain of things (BoT) communication standard and base application platform.
Other exchanges might list Internet Node Token and can be found by doing a quick web search.
Internet Node Token (INT) is designed for the Internet of Things.
INT Chain is a blockchain application platform and interactive standard which is object-oriented IoT and based on economic driving mode.
They have no real merits of their own or anything that really makes them stand out.
Internet Node Token is an economy driven solution to improve the device interconnection of Internet of Things. FX Empire encourages you to perform your own research before making any investment decision, and to avoid investing in any financial instrument which you do not fully understand how it works and what are the risks involved. Can somebody explain to me the advantage of using pure blockchain here?
These may also utilize the node network as a computation network lending to data processing and intelligent decision making based on real-time IoT data. These DAPPs will grow to have endless ability as the network grows and more IoT devices are on the network.
This use case driven approach ensures that the design and innovation of the INT public chain architecture evolves to meet new and current IoT application scenarios. To both improve and encourage device interconnectivity, we have built an economy driven ecosystem by providing token-incentives through a decentralized TCP/IP based architecture of IoT. This new business model, molded by IoT devices, will support an entirely new ecosystem of the Internet of Things. INT DAPPs will essentially be standardized collections of Cross-Chain smart contracts set up to do specific functions. These DAPPs can be created by manufacturers to facilitate more complex cause-effect IoT actions without the need for human interaction or centralized processing.
It is with great pleasure that we announce the completion of the Internet Node Token (INT) Token Swap, with deposits and withdrawals for mainnet INT now enabled. INT has set-up effective token economics and incentives to promote the implementation of software-define-resource (SDN) technology through its Blockchain. By incentivising the equipment to conduct resource transactions based on ensuring security and inter-chain trust in an economic-driven model, INT will promote a new ecosystem of the Internet of Things.
By this design, the Thearchy chain will be a blockchain with each block pertaining to a certain subchain [Fig. Subchain transactions will not mix within blocks. Each block header will have an identifier specifying which subchain it belongs to.
How to buy Internet Node Token?
Internet Node Token is a type of digital crypto currency, utilizing peer-to-peer transactions, mining and other technological feats into a modern day asset. Use this page to follow news and updates regarding Internet Node Token, create alerts, follow analysis and opinion and get real time market data.
You blocked @INTCHAIN
The first tier is the traditional token structure that participates in exchange transactions and can be understood as an INT share. The second tier uses the first tier token structure, launches a timed auction and float aiming at fiat money, mainly to solve the problem of token volatility, reduce volatility which is easy billing. Internet Node Token (INT) is designed for the Internet of Things. This new business model, molded by IoT devices, has open up a whole new market. Trading and investing in digital assets is highly speculative and comes with many risks.
Prices provided herein may be provided by market makers and not by exchanges. INT Chain - Internet Node Token - An economy driven solution to improve the device interconnection of Internet of Things. Fusion Media or anyone involved with Fusion Media will not accept any liability for loss or damage as a result of reliance on the information including data, quotes, charts and buy/sell signals contained within this website. Please be fully informed regarding the risks and costs associated with trading the financial markets, it is one of the riskiest investment forms possible.
IOT is the new crypto buzzword, and there are a slew of projects promising masterful integration with artificial intelligence and the internet of things. That means that when you choose such an investment you should be aware of exactly how much competition there is in this particular space, particularly from big players like IOTA who have already claimed a significant market share for themselves. Any team that wants to get up and running here now will have their work cut out for them, and they'd better bring something special to the table if they want to get noticed. Building services for data transmission and security for connected systems. The company focuses on electricity, transportation, and logistics.