Status is an open source messaging platform and mobile browser that allows users to interact with decentralized applications (dApps) that run on the Ethereum Network. In Status, users own and control their own data, wealth and digital identity. The Status Network Token ('SNT') is an Ethereum-based token that is required to interact with the Status Network.
| | | | |
| --- | --- | --- | --- |
| Mkt.Cap | $ 202.44 M | Volume 24H | 23.89 MSNT |
| Market share | 0% | Total Supply | 2.15 BSNT |
| Proof type | | Open | $ 0.03 |
| Low | $ 0.03 | High | $ 0.03 |
100 SNT to RUB
State-of-the-art machine-learning models on the blockchain.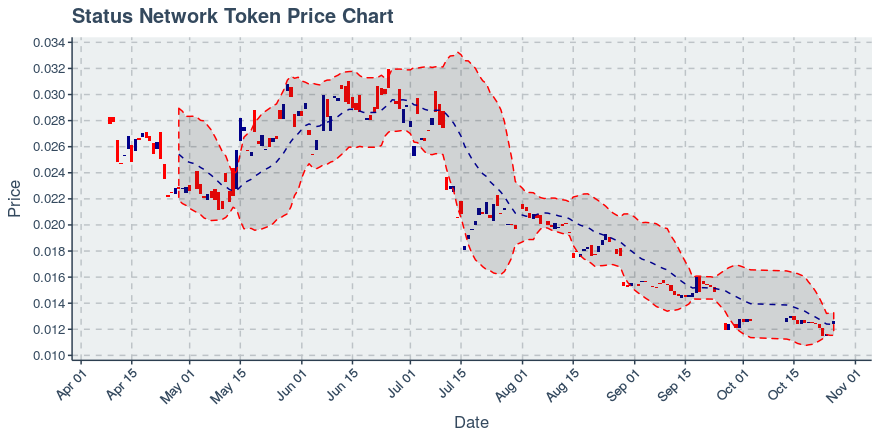 The smart contract platform claims to eliminate transaction fees and also conduct millions of transactions per second. "Settlement using blockchain to Automate Foreign Exchange in a Regulated environment (SAFER)".
@ethstatus
Also built in the token is a vesting schedule for limiting SNT transferability over time. Status aims to launch its proprietary app on the Apple and Android stores in early 2020, after years in development. Status kept up its work in beta, with additional testing, and will become the next crypto-based project to offer a chat and social media solution. The Status Network is launched when talk of mesh networks has been renewed within the crypto community.
The team also intends to leverage its positioning to bring roaming spending (offer tourists access to local currency spending), international aid (facilitating disbursements to underbanked), and online payments in general. Digitex Futures DGTX Digitex Futures (DGTX) is a non-custodial, commission-free cryptocurrency futures exchange. The use of the DGTX token obviates the need to charge transaction fees because the exchange is able to cover costs by creating and selling DGTX tokens each year. QuarkChain QKC QuarkChain (QKC) aims to provide a secure, decentralized, and scalable blockchain solution to deliver 1,000,000+ on-chain TPS (transactions per second). The main features of Quarkchain are its reshardable two-layered blockchain, collaborative mining, horizontal scalability, cross-shard transactions, and streamlined account management.
TenX PAY TenX (PAY) is a payments platform that aims to enable users to use cryptocurrency for daily transactions. The company aims to accelerate crypto adoption for mainstream consumers. The PAY token is the cryptocurrency that the network uses for transactions. Ten X intends to release a crypto card, which will work in tandem with the TenX wallet to channel supported cryptocurrencies through the Visa payment gateway.
Ethereum (the subject of this article) continued on the forked blockchain, while Ethereum Classic continued on the original blockchain.[33] The hard fork created a rivalry between the two networks. Ethereum is an open source, public, blockchain-based distributed computing platform and operating system featuring smart contract (scripting) functionality. It supports a modified version of Nakamoto consensus via transaction-based state transitions.
Huobi Token HT Huobi Token (HT) is an exchange based token and native currency of the Huobi crypto exchange. Pundi X NPXS Pundi X (NPXS) aims to make the use of cryptocurrency as a form of payment into a reality for retailers and consumers alike. By applying the technology to a series of real world use cases such as cards and the XPOS point-of-sale devices, the team has built products that could accept the NPXS token for goods and services.
The project is one of the few coming out of the ICO craze, which continued active development, and communicated with its supporters regularly. Now, the project has built a Web3 toolkit, with the potential to bring about the new generation of decentralized communication. You should never make an investment decision on an ICO, IEO, or other investment based on the information on this website, and you should never interpret or otherwise rely on any of the information on this website as investment advice. We strongly recommend that you consult a licensed investment advisor or other qualified financial professional if you are seeking investment advice on an ICO, IEO, or other investment.
An enterprise blockchain platform optimized for hybrid deployments.
4) As with all the messenger and social media apps, there is a strong network effect in play for Status. The more users Status has, the more powerful the entire network is. Therefore, success of SNT hinges largely on whether Status (and by extension, Ethereum) can achieve widespread adoption.
The distributed storage and sharding of a private key ensures means that no single node can gain control of assets. Fusion also provides for multiple triggering modes, such as time and event-based triggers, into its smart contracts, which were designed to meet the demands of complex financial smart contracts. Fusion is led by Dejun Qian, who also founded BitSE, a blockchain incubator that facilitated the rise of VeChain and QTUM. Celer Network CELR Celer Network describes itself as 'a layer-2 scaling platform to build fast, easy-to-use, low-cost and secure blockchain applications at internet scale through off-chain scaling techniques and incentive-aligned cryptoeconomics'.
Status SNT is not mineable, but there is an open bounty program where you can be rewarded Status SNT for contributing specific development pieces to the Status community. There are 147 open bounties as of July 17, 2018 and the Status coin is clearly aimed at keeping people as part of the community.
Staff downsizing may be a good or a bad sign, depending on how the core team reacts. Buy Status at your own risk, then, and keep an eye on the cryptocurrency news and the blockchain headlines. The Status Network Token is a modular utility token that fuels the network. By default, Status is free to use and communicate with, but you need SNT to access certain features of the Status Mobile Ethereum Client. Mithril MITH Mithril (MITH) is a decentralized social media platform on the Ethereum Blockchain that rewards users for creating content.
Bibox Token BIX The Bibox Token (BIX) is a cryptocurrency built by the Bibox exchange. When you hold this BIX Token in your Bibox account you receive rewards / dividends on your holdings. Holding BIX also allows for the privilege to use new applications, trading fee discount, rewards & more. Bancor BNT Bancor (BNT) offers a marketplace that facilitates the exchange of cryptoassets that may otherwise lack consistent liquidity on exchanges.
They can be written in Solidity (a language library with similarities to C and JavaScript), Serpent (similar to Python, but deprecated), LLL (a low-level Lisp-like language), and Mutan (Go-based, but deprecated).
It describes itself as an open-source messaging platform and web 3.0 browser that uses the Whisper V5 protocol to delegate nodes and support decentralized chat.
It leverages blockchain technology to anonymously and track user attention securely and rewards publishers accordingly.
Zilliqa's high throughput means that developers can focus on fleshing out their ideas rather than worrying about network congestion.
By applying the technology to a series of real world use cases such as cards and the XPOS point-of-sale devices, the team has built products that could accept the NPXS token for goods and services.
Enigma aims to extend Ethereum Smart Contracts by introducing secret contracts. Secret contracts would operate off-chain, meaning the execution of the contract doesn't occur on the Ethereum blockchain, but rather sorts any related data into pieces, encrypts those pieces, and distributes them redundantly among Enigma nodes. UGAS UGAS Ultrain bills itself as a high-performance decentralized blockchain platform. Ultrain aims to construct a sustainable commercial ecosystem that enables industrial applications. The team claims that Ultrain is able to solve the performance and scalability issues in traditional public blockchain platforms by providing a multifold increase in performance.
This is huge when you consider the subreddit page about ICOs has only 2,500 subscribers. This is because (1) Status has a bounty program that gives out the token SGT, which can be converted to SNT after the ICO, and (2) Status has been around for longer than most ICOs.
Founded by former tech leads from Alibaba and Ant Financial Blockchain, Ultrain's core team reportedly includes 40 developers from Alibaba, Ant Financial, Google, and Huawei. The team claims that its proprietary RPOS consensus algorithm, smart contract/developer framework, and customizable privacy solutions(zkp) makes Ultrain a cost-effective solution that offers customization and ease of use. As of 15 Apr 2019, Ultrain released its main-net and aims to be the top commercial public-chain globally across multiple verticals such as supply chain, media, retail, and healthcare. Revain R Revain (R) is a blockchain-based feedback platform similar to Yelp.
Aragon ANT Aragon (ANT) is a decentralized platform built on the Ethereum network that offers a modularized way to create and manage dApps, cryptoprotocols, and decentralized autonomous organizations (DAO). The ANT ERC-20 token will enable its holders to govern the Aragon Network. The project is led by Luis Cuende, who was featured on the 'Forbes 30 under 30' category in 'Technology'.
We certainly hope the Status team fixes these egregious breaches of public trust and brings more transparency to its project soon. Still, it's one of few crypto projects that has something tangible, but it's following the freemium business model that was popularized on mobile devices. And this is where Status crosses several lines that will inevitably get it in trouble if it ever manages to scale.
The team at IOST recognizes that without sufficient scalability, multinational corporations may not be able to deploy blockchains to service their customers at the level expected today. As such, the teams at IOST propose the Internet of Services Token as a means to reach these ends. 0x ZRX 0x (ZRX) is a permissionless protocol that provides the infrastructure to facilitate the creation of decentralized exchanges on the Ethereum blockchain. The project employs off-chain transaction relayers and Ethereum based smart contracts to provide an open order book and decentralized exchange.
The Golem network pools global computing power and enables users to access these resources with GNT. Token holders pay resource owners to complete tasks requiring computational resources. The network is composed of the aggregated power of user devices. Golem is reportedly able to compute tasks that run the gamut from CGI rendering to machine learning.
Digix also offers an API that enables other applications to be built on top of its asset tokenization service. Digix has 2 cryptocurrencies, Digix Gold (DGX) and DigixDAO (DGD). The company reportedly procures its gold from LBMA-approved refiners. For security, Digix includes third-party auditing from Bureau Veritas. The DGD crowdsale in Mar 2016 was the first crowdsale and major DAO hosted on the Ethereum network.
A core part of the Status Network Token is giving stakeholders the ability to choose the direction that the software is developed. SNT is used to make decisions on proposals, which can be made by any Stakeholder. For each decision, the token is cloned into a separate decision token.
Envisioning the decentralization of the concept behind casinos, FunFair harnesses peer-to-peer technology in combination with cryptography. Having game-creators, operators, and players each utilizing their FUN tokens for fees or revenues, the technology is meant to enable lower costs along with greater transparency in secure gaming experiences said to be fun, fast, and fair. Power Ledger POWR Power Ledger (POWR), based in Australia, encourages us to imagine a world in which electricity is dependable, affordable and clean for everyone. In their dual token model, POWR is the utility token that users would escrow in order to use the platform, whilst Sparkz represent electricity credits tied to local fiat for marketplace participants. Both are used to create part of an economy in which households that generate electricity can trade with their neighbors for a fair return.
The team plans to partner existing social platforms to drive adoption of its ERC-20 MITH token, which can reportedly be integrated with any social media platform. In addition to storing funds, the Mithril Vault wallet can be used for staking and swapping into other currencies. Polymath POLY Polymath (POLY) is creating a global platform for issuing and investing in securities tokens. Polymath's standard for blockchain security tokens aims to integrate the necessary regulatory requirements into smart contracts and comply with regulations. The project simplifies the legal process of creating and selling security tokens.
A first step towards community governance, the Status Voting DApp enables stakeholders to influence the future of the network. The Voting DApp can be used by anyone to set up a community vote with SNT. Leveraging quadratic voting, the amount of SNT in your wallet determines how many votes you can cast. The Status DApp Directory provides a way for stakeholders in the network to discover DApps, as curated by other community members. It will also provide a way to navigate by category and rating, enabling users to find exactly what they are looking for.
Development governance and EIP
The technology at the heart of bitcoin and other virtual currencies, blockchain is an open, distributed ledger that can record transactions between two parties efficiently and in a verifiable and permanent way. The Ethereum Virtual Machine (EVM) is the runtime environment for smart contracts in Ethereum. It is a 256-bit register stack, designed to run the same code exactly as intended. It is the fundamental consensus mechanism for Ethereum. Ether is a fundamental token for operation of Ethereum, which thereby provides a public distributed ledger for transactions.